Customer Reviews
Great seller with excellent communication throughout the design process... definitely recommended!
We couldn't be happier with our wallpaper and experience ordering from your store. Thank you for being so responsive and for the easy directions and included tools to make installation as easy as possible! The illustrated swirls brought our new nursery nook to life!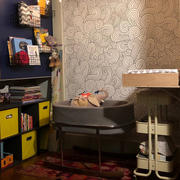 This wallpaper is beautiful and the shop owner was very accommodating to my custom sizing request and even resized the image to make the pattern more easily visible for my smaller-scale project. I had bought a slightly damaged gold-top console table at the CB2 outlet with the intention of covering it somehow to make it my own. This wallpaper did just the trick! It adhered to the metal top without any problems, and was easy to apply. It was cut down to size by the shop owner, so I didn't even have to do any cutting, just some measuring up-front. Much more fool-proof option for me :) I had to adjust and re-stick a few times just because the table itself appears to have a slight curve to it, but, the wallpaper was flexible and accommodating to my sticking/unsticking/re-sticking process and did not lose stickiness over time.